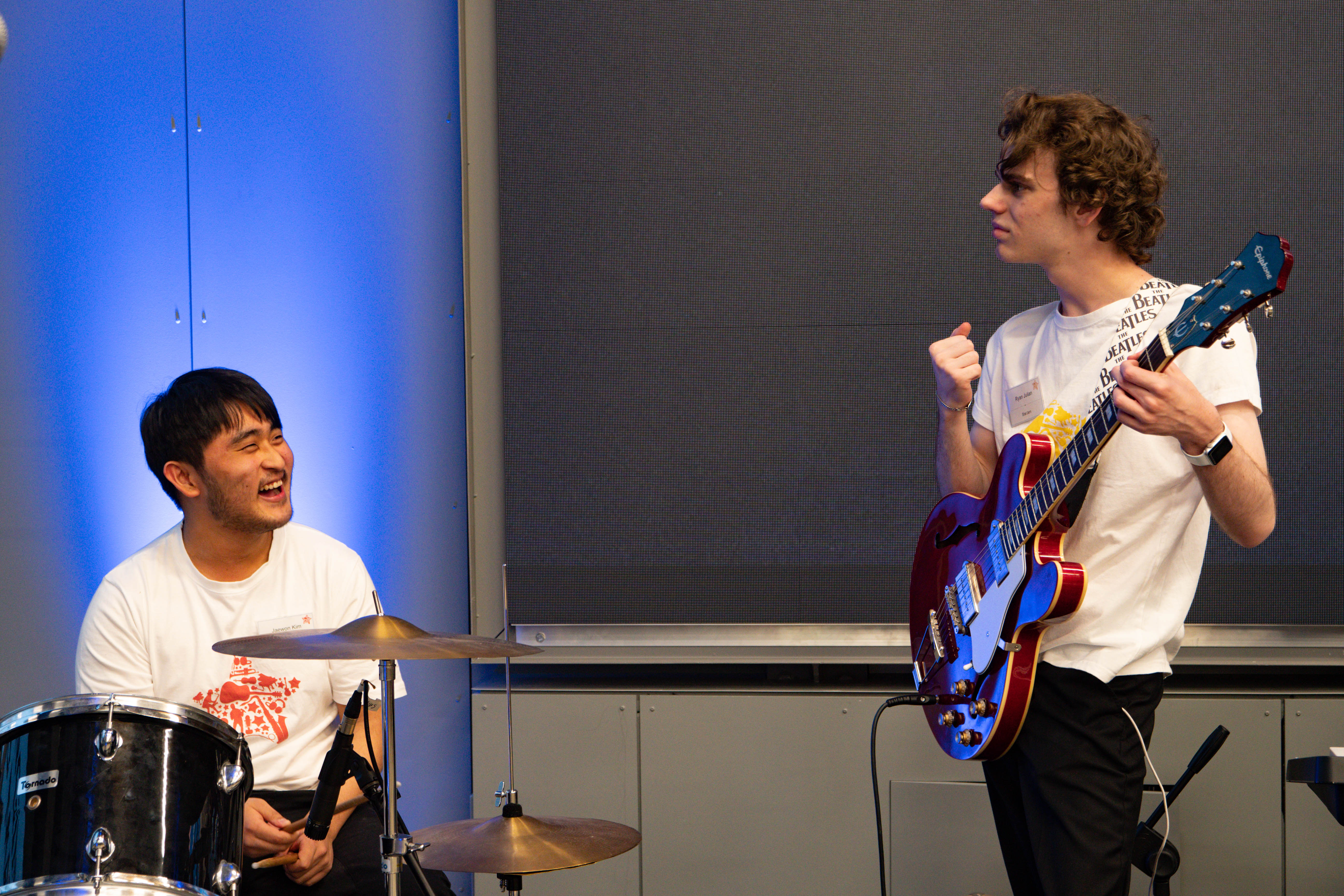 Looking for something out of the ordinary for your next team-building activity?
In StarJam's creative team building programme, your team can have a go at our award-winning music and performance-based workshops and learn from our talented StarJam alumni. 
Who are the Jammers?
Our Jammer graduates are skilled dancers, musicians and performers with disabilities, who love sharing their passion and breaking down barriers. In our team building programme, they will be your energetic tutors, with the support of our StarJam staff.
How it works
We come to your workplace, warm you up with some games, and then divide your team into small groups.
Get ready to be active, learn and have fun in your group. In an hour and a half you will:
Be tutored by our awesome alumni in a performance skill - singing, dancing or drumming.
Rehearse a mini-performance piece.
Present your piece to the other groups.
Tell your colleagues what you loved about their performance when you give and receive positive feedback.
Why choose StarJam?
Here are just some of the reasons to choose StarJam for your next team-building activity:
Confidence

–

your staff will be encouraged to step outside of their comfort zone in a fun and supportive environment.

Dynamically different

–

a collaborative and fun way for your staff to learn a new skill and be taught in a refreshing way.

Connect 

–

many people who take part in these workshops report a new level of understanding and appreciation of their colleagues, and are moved by the amazing potential of our Jammers.

Be inspired

-

to learn more about breaking down barriers at work and how you can contribute to a more inclusive workplace.
For more information or to book, please email info@starjam.orgor phone: 09 300 6257
"The StarJam workshop felt more meaningful than your usual team building session.  Jono (alumni Jammer) was a fantastic facilitator who spoke brilliantly about his experiences and the work StarJam does.  His message about focussing your energy on and celebrating what you can do rather than worrying about what you can't, was really powerful and certainly gave us all some much needed perspective on how important or otherwise some of the issues are that we waste energy on in corporate life". 
Georgia Blackburn (Qantas Regional General Manager, New Zealand, South America & the Pacific Islands).
For more info, check out this video: