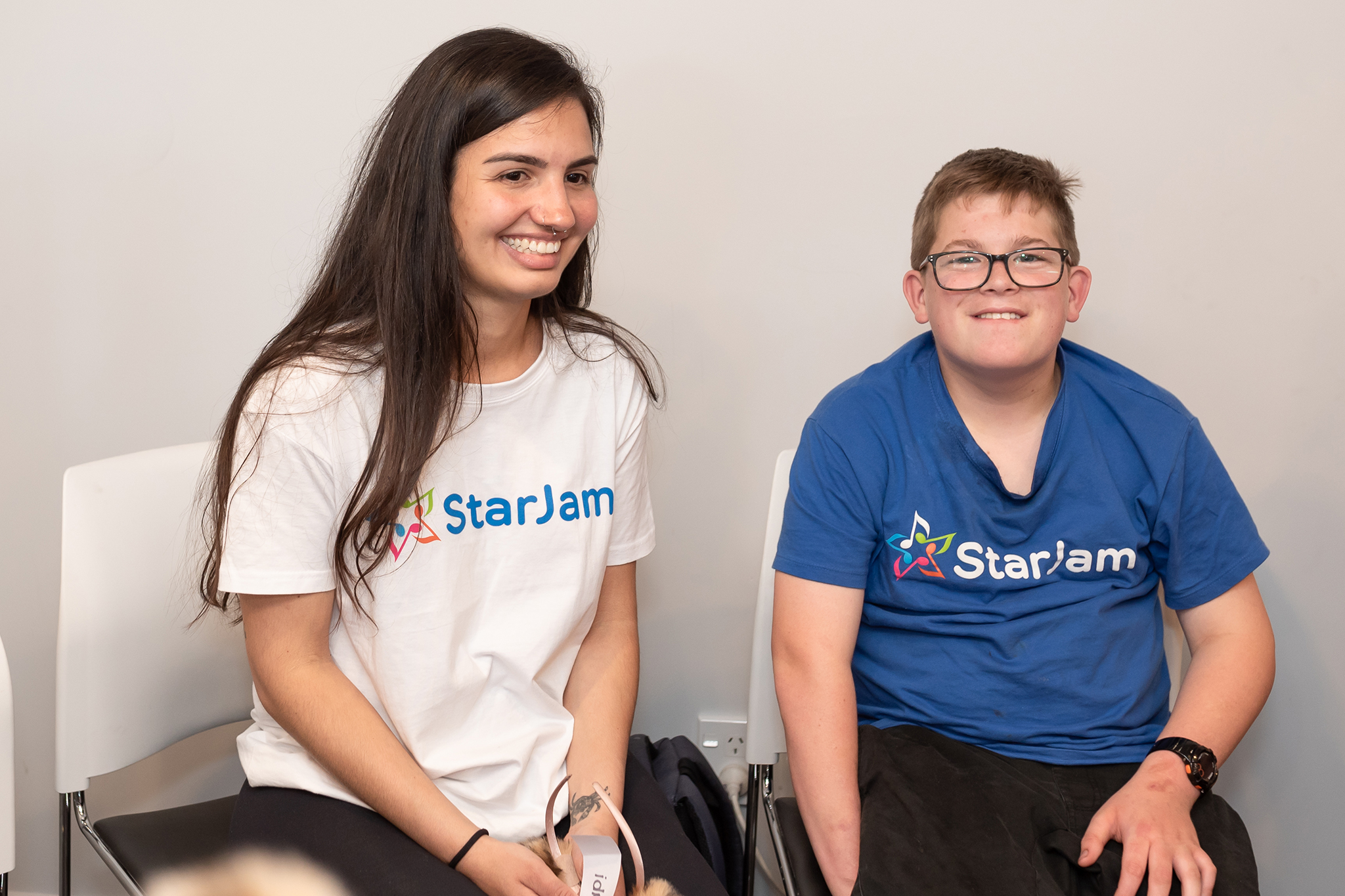 Want to make a real difference to the lives of young people with disabilities and their families? Do you want to be part of an organisation which breaks down walls and contributes to a world in which every person with a disability is respected, encouraged, and celebrated for who they are and who they want to become?
Do you want to see happy tears, proud parents, and amazed audiences?
Of course you do!
Whatever your skills, availability, or passions, and wherever you live in New Zealand, there's a volunteer role waiting for you!
StarJam music and performance workshops
We need two dedicated volunteers at each of our music and performance workshops to help supervise and support our wonderful young people with disabilities (known as Jammers). We have music, singing and dancing workshops in Auckland, Hamilton, Tauranga, Rotorua, Wellington, the Wairarapa and Christchurch, which run on week nights during school terms.
As a volunteer, you'll support the tutor with activities and help our Jammers take part and feel included. You'll have a fun time with our Jammers and keep them safe, and you'll be responsible for opening and securing the venue. If you can commit to regular workshops, this fun and important role will suit you.
Community Events
At the end of each term, we hold community events in Auckland, Hamilton, Tauranga, Wellington and Christchurch for our Jammers to perform and socialise with fellow Jammers and the wider community.  Our volunteers help in various activities and games, and provide support to StarJam staff. If this sounds like you, and you can make a regular commitment, we'd love to hear from you.
General Volunteers
StarJam holds exciting events and projects throughout the year and we're always looking for volunteers to help out – from bucket shaking to envelope stuffing – we want you!  If you want to be a part of a specific project, or help StarJam when you can, these general volunteer roles are for you!
What we offer you:
Excellent training programme, one-hour orientation (for workshop volunteering)
Ongoing regular support from StarJam staff
Fun, rewarding roles and a fantastic reference for your CV
The chance to build lasting friendships, and the promise of loads of fun!
Experience the magic of StarJam as a volunteer 
Samantha Denton, a long-term StarJam volunteer for the Magic Movers workshop and now a StarJam tutor, was recognised for her contribution to StarJam with a New Zealand Youth Week award in 2016. This was her StarJam volunteer experience:
"In just over two years, I have seen Jammers join our workshop but no one leave, friendships formed, walls broken down; Jammers perform in front of audiences of 10 people and audiences of hundreds. I have seen the difference a good catch up with fellow parents can make. I have seen audiences ooze with pride and admiration, Jammers brought to happy tears, and what 2 hours a week without creative limitation looks like." – Edited from Samantha Denton's acceptance speech for the 2016 New Zealand Youth Week – working for Youth award.
Be your supportive, creative, fun-loving self and ask about StarJam volunteer opportunities in your region today. Contact us on 09 300 6257 or info@starjam.org