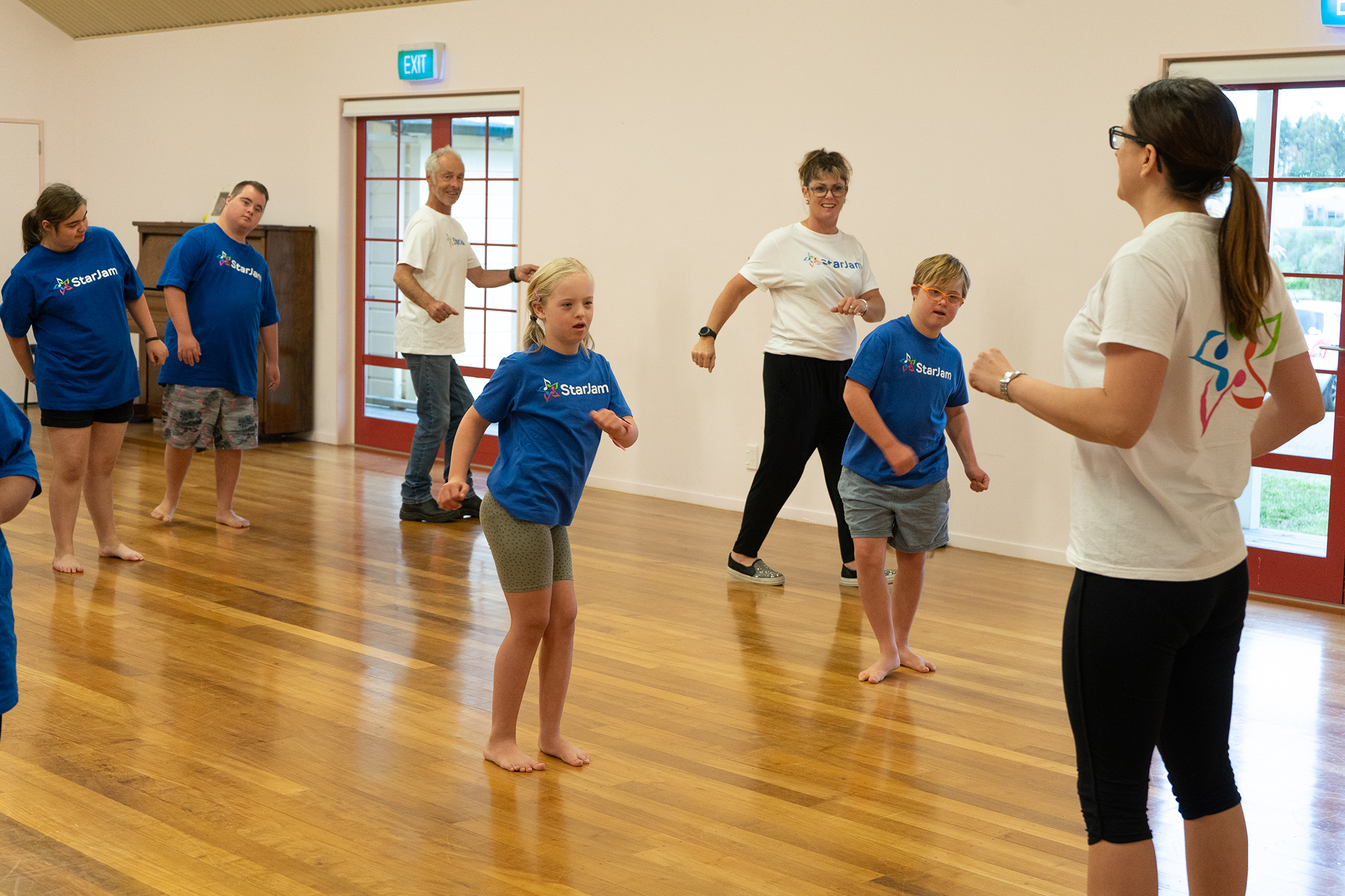 Want to make a real difference to the lives of young people with disabilities and their families? Do you want to be part of an organisation which breaks down walls and contributes to a world in which every person with a disability is respected, encouraged, and celebrated for who they are and who they want to become?
Do you want to see magical music moments, the making of lifelong friendships, and experience that anything is possible?
Of course you do!
Be a tutor and help our Jammers unleash their creativity, confidence and potential. Whether you are experienced in singing, dancing, or playing an instrument, and wherever you live in New Zealand, there's a paid tutor role waiting for you!
StarJam music and performance workshops
We need an energetic and skilled tutor at each of our music and performance workshops to help our Jammers feel comfortable to be themselves and rock on! We have music, singing and dancing workshops in Auckland, Hamilton, Tauranga, Rotorua, Wellington, the Wairarapa and Christchurch, which run on week nights during school terms.
As a tutor, you'll plan and run a workshop for our wonderful Jammers in the area you're experienced in (singing, dancing or instrumental). You'll also make sure the Jammers are safe and having fun. You'll be supported by a volunteer or two.
Our tutors love being surrounded by young, outgoing and excited Jammers who are discovering their talents and potential.
Community Events & End of Year concerts
Our tutors help out at StarJam's end of school term community events in Auckland, Hamilton, Tauranga, Wellington and Christchurch. These events are a chance for our Jammers to perform and socialise with fellow Jammers and the wider community.  Our tutors also prepare their workshop Jammers for the End of Year concerts, and enjoy watching all the hard work and practice pay off in stunning and moving performances.
What we offer you:
Excellent training programme, including first-aid and one-hour orientation
Ongoing regular support from StarJam staff
A paid, fun and rewarding role, and a fantastic reference for your CV
The chance to build lasting friendships, and the promise of loads of fun!
Experience the magic of StarJam as a tutor
Being a tutor is an incredibly rewarding role that makes a big difference to the lives of our Jammers.
Here's what some of our tutors say:
"StarJam is easily one of the highlights of my week. To be surrounded by so many enthusiastic and outgoing young people, and to help them discover their talent and put themselves out there is incredibly humbling and satisfying. Every week I am amazed by something that one of the Jammers has achieved, and I can only imagine the thrill and excitement they have in the workshop." Mike Patrick, Groovy Guitar, Wellington, Tutor.
"StarJam is an experience, not just a workshop. It's about connecting, growing, inspiring, encouraging and being fully present. We all learn every week from each other. My heart is filled with riches that I have gathered from my years with StarJam. We all grow together. I want to continue tutoring with StarJam as long as you will have me." Sarita, Sensational Singing, Hamilton, Tutor.
"For me the ultimate magic moment was seeing all the Jammers come together for the final show. The energy and atmosphere before, during and after the show is amazing. I couldn't be happier with our final performance. Every single Jammer got involved and all our practice paid off." Ivan Kam, Tutor
Be your supportive, creative, positive self and ask about StarJam tutor opportunities in your region today. Contact us on 09 300 6257 or info@starjam.org